President Trump Meets Kim Jong Un At Historic Summit In Singapore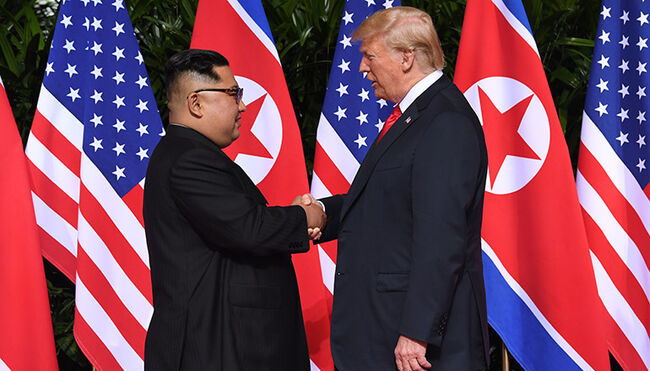 The stakes are high as President Donald Trump and North Korean leader Kim Jong Un meet face-to-face at a historic summit in Singapore. The two world leaders are meeting one-on-one with only their translators being inside the room with them.
After speaking privately for around 45 minutes, the two men emerged and walked together to their next meeting with an expanded delegation. The two leaders stopped and waved to cameras before entering a meeting room to start the second phase of the summit. Trump remarked that things are going well and that he and Kim have an "excellent relationship."
For the next meeting, Trump and Kim are going to be joined by American and North Korean delegations, including Secretary of State Mike Pompeo, National Security Adviser John Bolton, and Chief of Staff General John Kelly.
Trump enters into the meeting with the goal of getting Kim Jong Un to agree to completely dismantle his country's nuclear program. In a press conference at the G-7 summit over the weekend, Trump said that he will be able to tell Kim's intentions and whether or not he is serious about making a deal "within the first minute."
It is unlikely that any major deal will be struck during the meeting and Trump said that "it will take a period of time," to work out a formal agreement. He said that if the meeting goes well he would "certainly" consider inviting Un to the White House.
Prior to the one-on-one meeting, the two leaders took questions from the press.
Photo: Getty Images