NFL Players Defy Trump, Take Knee During National Anthem
NFL players responded to criticism from President Donald Trump about those who protest police brutality by taking a knee during the national anthem in a predictable way. By kneeling en masses Sunday morning.
Week 3 opened Sunday morning in London as many players from both the Jacksonville Jaguars and Baltimore Raves kneeled while "The Star-Spangled Banner" played through the stadium. Ravens Coach John Harbaugh joined his players by linking arms as Ravens Hall of Famer Ray Lewis took a knee.
Jaguars owner Shahid Khan, who donated to Trump's inaugural committee, is the second owner to participate with players in the anthem protests. Jimmy Haslam, the Cleveland Browns owner, locked arms with players, military personnel and first responders in Week 1 of the season.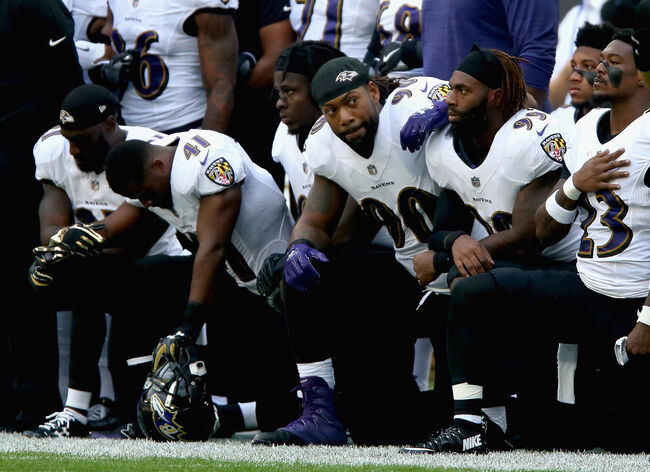 Reports on social media indicate that players on both teams all stood during the British national anthem "God Save the Queen" which played immediately after.
The Baltimore Ravens owner Steve Bisciotti quickly released a statement supporting those players who protested Sunday morning in a tweet saying: "We recognized our players' influence. We respect their demonstration and support them 100 percent. All voices need to be heard. That's democracy in its highest form."
Players in the NFL were angered by comments made by the president at a rally on Friday night in which he said that players who should be fired by owners. Trump continued his tirade Sunday morning, calling for a boycott of the NFL should players continue to kneel during the national anthem.
"If NFL fans refuse to go to games until players stop disrespecting our Flag & Country, you will see change take place fast. Fire or suspend!" he tweeted.